Multiply HEPA Air Purifier with Negative ion and Ozone GL-2108 for Home Air Cleaning Filter CE, RoHS
The GL-2108 is a multiply HEPA air purifier with function of ionizer, ozone generator and HEPA  filter.  GL-2108 air purifier filters the dust, dander, pollen, mold spores, smoke, fabric fibers, allergens, formaldehyde etc containment existing in air and works to sterilize virus and improve and clean air for whole home.
Air Purifier GL-2108 Features:
A HEPA multiply air filter nets (Pre-filtration + HEPA + Activated Carbon + Special Bacteria Resistance)
Negative ion air cleaner (Ionizer)
Ozone generator
Wind Flow Control, 3 levels options (2.2 m

3

/mm, 2.6 m

3

/mm, 3.2 m

3

/mm)
Timer module setting, 1/2/4/8 hours
Remote control
Filter net replacement remind
HEPA Multiply Filter Nets
GL-2108 using a multiply HEPA filter, which suggested to change each 8-12 month depending on feed air quality.
GL-2108 clean air by integrating several advanced air purification technologies
A true HEPA Filter traps 99.97% 5 micron airborne in air as well as remove pollen and allergy particles.
Activated carbon Filter effectively removes Smell, Smoke, Benzene, adsorbs harmful substance.
Ozone flows freely to freshen air, destroy odor, neutralize microorganisms and virus in the air
Ionizer called "air vitamin", eliminate allergy source and promote metabolism of human body. As well as   reduce incidence of respiratory system, enhance human's resistance and immunity.
GL-2108 air purifier has a touch control panel for fan speed, ozone choice, and a timer setting which is for better energy efficiency at night. It is also available control by remote.
Specification:
Plasma: 8×10,000,000 pcs/cm3
Ozone output: 500mg/h
Voltage: 220-240V, 50Hz
Power: 37W, 42W, 50W depending on wind flow
Net Weight: 3.6Kgs
Equipment Dimensions: 420×310×121mm
Applications Suggest:
GL-2108 air purifier is made to filter and clean the air in medium-sized to large rooms (15 m2 – 80 m2 ), making this home air cleaner unit ideal for larger offices, bedrooms, nurseries, basements, and so on.
Below is some applicatin suggest,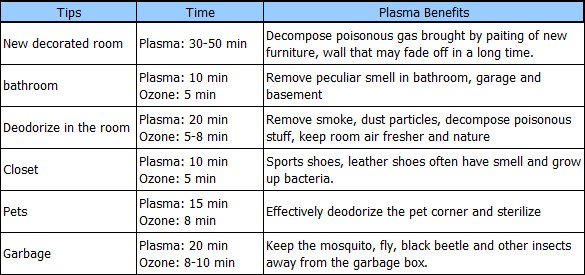 Notice: don't use where the humidity is high. Set at least one meter away from main home appliance, like Television, computer etc, to those air purifier will affect.
Packing List:
Air Purifier GL-2108 × 1 pcs
Multiply HEPA Filters × 1 pcs
User manual × 1pcs
Packing Detail:
Air purifier is packed by plastic bag and foam inside carton which is International Standard Shipping Package.
Guarantee
All items sold in our store is enjoy one year guarantee since date of shipped out. Tariffs please themselves